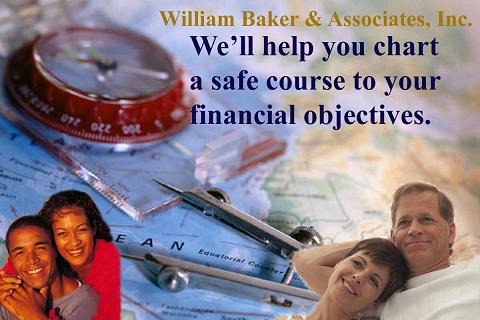 Welcome to William Baker & Associates, Inc., where you'll find a wealth of information.

William Baker & Associates, Inc. featured in The Trust Equation: The Savvy Investor's Guide to Selecting a Competent, Ethical Financial Advisor by Steven Drozdeck and Lyn Fisher. Click here to learn more.
We hope your visit will help you understand the opportunities and potential rewards that are available when you take a proactive approach to your personal financial situation. We have created this Web site to help you gain a better understanding of the financial concepts behind investing, retirement, estate planning, and wealth preservation. Most important, we hope you see the value of working with skilled professionals to pursue your financial goals.
We're here to help educate you about the basic concepts of wealth management; to help you learn more about who we are; and to give you fast, easy access to market performance data. We hope you take advantage of this resource and visit us often. Be sure to add our site to your list of "favorites" in your Internet browser. We frequently update our information, and we wouldn't want you to miss any developments in the area of personal finance.
This article offers ideas that could help online shoppers protect themselves from cyber criminals and scams.

Find out about cost-of-living adjustments that affect retirement plan contribution limits and other deductions and threshold amounts.

This article discusses the race between tech companies to monetize AI and how widespread adoption might affect workers, the economy, and society in general.

A sound retirement plan should be based on personal circumstances, and no one strategy is suitable for everyone. This article looks at four goals that a retirement strategy should address.